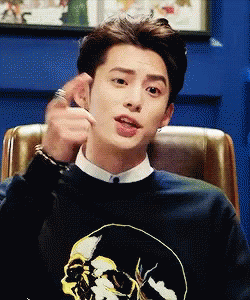 Despite their young age, these C-Actors have already dominated the C-Entertainment world. Whether it was through the support and guidance of older actors and actresses or through their own talents, these actors have already made a name for themselves. But they're still considered rookies! Anyway, here's a list of some of the most sought after C-actors in the industry.
Neo Hou Ming Hao (侯明昊)

Age: 21 (August 3rd, 1997)
Notable Works: Cambrian Period (2017), When We Were Young (2018), The Lost Tomb 2 (2019), The Monkey King 3 (Upcoming), The Haunted House Handbook (Upcoming), A Chinese Ghost Story (Upcoming)
A previous trainee at SM Entertainment (S. Korea), Hou Ming Hao left to pursue a career in Mainland China. He started out as a model and debuted in an idol group Fresh in 2014 alongside Joseph Zeng Shun Xi. He left the group in 2016 to go into acting. Since then, he has been starring many idol youth dramas.
Arthur Chen Fei Yu (陈飞宇)

Age: 19 (April 9th, 2000)
Notable Works: Ever Night (2018), My Best Summer (2019), Legend of Awakening (Upcoming)
Chen Fei Yu is the son of famous Chinese director Chen Kaige. His first major acting role was in Ever Night as the main character, Ning Que. The drama was a huge success and pushed him to stardom. He is currently attending Beijing Film Academy.
Turbo Liu Hao Ran (刘昊然)

Age: 21 (October 10th, 1997)
Notable Works: Beijing Love Story (2014), Detective Chinatown (2015), With You (2016), Nirvana in Fire 2: The Wind Blows in Chang Lin (2017), Novoland: Eagle Flag (Upcoming)
Before becoming an actor, Liu Hao Ran attended the Affiliated Secondary School of Beijing Dance Academy. He was then selected by Chen Si Chen to debut in his movie Beijing Love Story. Since then, he has worked alongside Chen Si Chen and starred in a few of his movie films and projects. His role as Yu Huai in youth drama With You gained him lots of attention among many young people. However, his role as the hotheaded Xiao Ping Jing in Nirvana in Fire 2 garnered him even more high praise and recognition. He is currently attending Central Academy of Drama.
Joseph Zeng Shun Xi (曾舜晞)

Age: 21 (October 9th, 1997)
Notable Works: Fighter of the Destiny (2017), Heavenly Sword and Dragon Slaying Sabre (2019), Over the Sea I Come to You (2019)
Zeng Shun Xi joined idol boy band Fresh alongside Neo Hou Ming Hao, but left the group in 2015 to pursue a solo career. One of his first dramas was alongside Luhan in The Fighter of Dynasty where he portrayed the silly Tang Tang (or Tang San Shi Liu). His first major role was as Zhang Wu Ji in the 2019 remake of Jin Yong's Heavenly Sword and Dragon Saber novel. Although he received criticism for his weak portrayal of the iconic character due to his young age and lack of experience, he continued to work hard to portray Zhang Wu Ji to his best ability.
Leo Wu Lei (吴磊)

Age: 19 (December 26th, 1999)
Notable Works: Nirvana in Fire (2015), The Whirlwind Girl (2015 & 2016), Magic Star (2017), Battle Through the Heavens (2018), Cross Fire (Upcoming)
Wu Lei began his acting career at an early age. Since young, he was featured in many dramas playing child roles. However, he began to gain recognition after playing the young Fei Liu in Nirvana in Fire alongside Hu Ge and Wang Kai. His portrayal of the stoic and playful Fei Liu got him lots of popularity among many viewers. He also starred alongside Yang Yang, Hu Bing Qing, and Tan Song Yun in Whirlwind Girl, which also garnered him lots of fans. His first major roles were in Magic Star and Battle Through the Heaven. He is currently filming alongside Luhan in e-sports drama Cross Fire. He is also a student at Beijing Film Academy.
Karry Wang Jun Kai (王俊凯)

Age: 19 (September 21, 1999)
Notable Works: Legend of Chusen (2016), The Great Wall (2016) Boy Hood (2017), Eagles and Youngsters (2018), L.O.R.D. 2 (Upcoming)
He debuted in popular idol group TFBoys in 2013. As the oldest of the three members, Wang Jun Kai was the leader and portrayed the older brother figure for his bandmates. Although initially a singer, he and his bandmates slowly transitioned into acting and he got his first acting role portraying the younger Lin Jing Yu in The Legend of Chusen in 2016. He also got to be a supporting cast member in Zhang Yi Mou's The Great Wall alongside many A-list actors and actress from China and the US. His first major role was in Eagle and Youngers opposite Wen Qi. He also starring alongside Dilireba and Dong Zi Jian in the movie Namiya. He currently attends Beijing Film Academy.
Jackson Yi Yang Qian Xi (易烊千玺)

Age: 18 (November 28, 2000)
Notable Works: Legend of Chusen (2016), Song of Phoenix (2017), Boy Hood (2017), The Longest Day in Chang An (2019), Better Days (2019), The Legend of Youth (Upcoming)
He also debuted in TFBoys alongside Wang Jun Kai and Wang Yuan. He was the youngest member and was popular for his dancing skills. He debuted alongside his bandmates in the Legend of Chusen where he played a little fox demon. He also starred in Song of Phoenix playing the younger version of Ma Ke. His currently airing drama is The Longest Day in Chang An where he stars alongside actors Lei Jia Yin and Zhou Yi Wei. His upcoming drama is called Legend of Youth where he costars with Huang Zi Tao. He is currently a student at the Central Academy of Drama.
Dylan Wang He Di (王鹤棣)

Age: 20 (December 20, 1998)
Notable Works: Meteor Garden (2018), Ever Night 2 (Upcoming), The National Southwestern University and Us (Upcoming)
Wang He Di gained high recognition after portraying the beloved Dao Ming Si in the nostalgic youth drama Meteor Garden. His portrayal of the handsome rich boy charmed viewers and won the hearts of many. Since then, his career has skyrocketed and he was able to get the role of Ning Que in Ever Night 2 due to this popularity and charismatic acting.
Song Wei Long (宋威龙)

Age: 20 (March 25th, 1999)
Notable Works: Long For You (2017), Untouchable Lovers (2018), Love the Way You Are (2019) Find Yourself (Upcoming), In A Class of Her Own (Upcoming)
He enrolled in Tagou Martial Arts School of the Henan Province after being inspired by classic martial arts movie The New Legend of Shao Lin. He later signed onto Yu Zheng Studio to debut as an actor. His first major role was in Untouchable Lovers, a remake of the popular novel A Tale of Two Phoenixes (Feng Qiu Huang) by Tian Yi You Feng. He portrayed the mysterious and handsome Rong Zhi who falls in love with Liu Chu Yu, who is portrayed by Guan Xiao Tong. His upcoming dramas include Finding Yourself with Victoria Song and In A Class of Her Own with Ju Jing Yi.
Xing Zhao Lin (邢昭林)

Age: 21 (June 22nd, 1997)
Notable Works: Princess Agents (2017), The Eternal Love (2017), I Cannot Hug You (2018), The Eternal Love 2 (2018), Blowing in the Wind (2019), You Are My Destiny (Upcoming), The World Owes Me A First Love (Upcoming)
Xing Zhao Lin caught the eyes of many viewers for his portrayal as Yue Qi in Princess Agents. He gained even more popularity as the main lead in romance historical drama The Eternal Love alongside Liang Jie. The popularity of the drama gained him and Liang Jie both a large fan base and the sequel to the drama garnered them even more fame. Since then, he has starred opposite Zhang Yu Xi in I Cannot Hug You and Blowing in the World with Eleanor Li Kai Xin. One of his upcoming dramas includes You Are My Destiny again with Liang Jie, which is a remake of popular Taiwanese drama Fated to Love You.
Xu Kai (许凯)

Age: 24 (March 5th, 1995)
Notable Works: Untouchable Lovers (2018), Story of Yanxi (2018), The Legends (2019), Ode to Daughter of Great Tang (Upcoming), Once Upon A Time There Was A Spirit Mountain (Upcoming), Arsenal Military Academy (Upcoming)
Xu Kai signed onto Yu Zheng Studio in 2016. He starred as a supporting character in Untouchable Lovers. But his role in Story of Yanxi was what gained him popularity. His portrayal of Fucha Fuheng was well received and loved by many viewers. He gained further recognition and popularity as Li Chen Lan in The Legends. His portrayal of the handsome and loyal demon sect master made him popular among fans and his chemistry with costar Bai Lu was a hot topic among many when the drama aired.
Chen Xing Xu (陈星旭)

Age: 23 (March 31st, 1996)
Notable Works: Legend of the Condor Heroes (2017), Goodbye My Princess (2019), The Best of Times (Upcoming)
His first major role was as Yang Kang in 2017's version of Legend of the Condor Heroes. Although he portrayed the good-turned-bad character well, he was overshadowed the Yang Xu Wen's Guo Jing. However, his portrayal of Li Cheng Yin in Goodbye My Princess brought his popularity up and garnered him many fans. Despite being a rookie actor, he was able to impress not only the production team, but also the many viewers of the drama and fans of the novel. He was highly praised and many saw him in a new light after portraying Li Cheng Yin.
Qu Chu Xiao (屈楚萧)

Age: 24 (December 28, 1994)
Notable Works: Bloody Romance (2018), Ruyi's Royal Love in the Palace (2018), The Wandering Earth (2019)
He is a graduate of Central Academy of Drama. He gained lots of attention after starring alongside Li Yi Tong in Bloody Romance. Many viewers were impressed with his skills and found him to be a competent actor. However, the success of The Wandering Earth was what propelled him into greater fame and pushed his career into greater heights.
Chen Zhe Yuan (陈哲远)

Age: 22 (October 29, 1996)
Notable Works: Legend of Zu 2 (2018), Hello Dear Ancestors (2018), Handsome Siblings (Upcoming)
His first major role was in Nicky Wu's Legend of Zu 2 where he portrayed the male lead Yu Ying Qi. He then went onto to star in time traveling rom-com Hello Dear Ancestors alongside actress Dong Qing. His upcoming drama will be a remake of popular wuxia novel Handsome Siblings where he will star alongside Hu Yi Tian. He will portray popular male character Xiao Yu Er.
Of course there's more up and coming actors out there than these guys, but you have to admit that C-ent right now has their faces all over it. I'm definitely looking forward to seeing their future projects and hoping that they'll one day reach the status of A-listers!