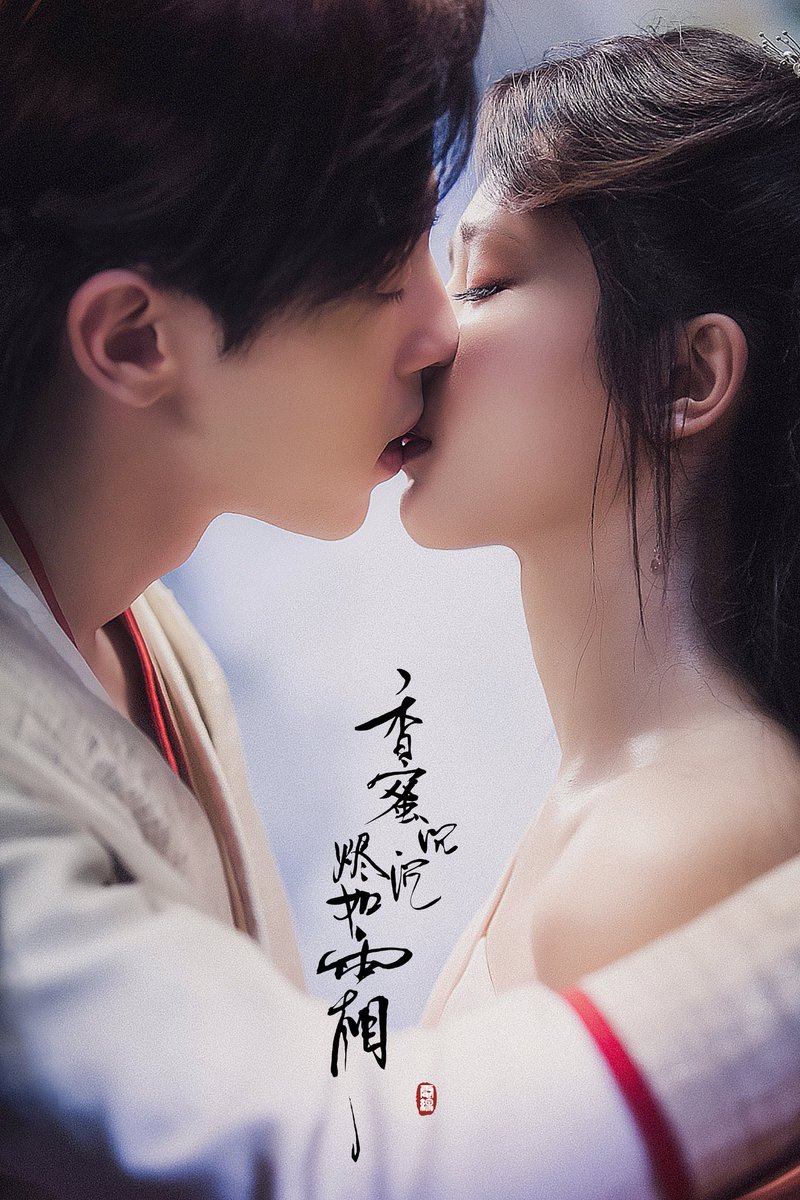 In case you still don't know this drama was licensed by Viki 😀
Warning: A lot of ranting in this post
I really liked the human world saga. It felt like a little bit of sweetness before all the upcoming angst. It also developed their relationship even more. They are so perfect together *inserts heart eyed emoji*
I want to point out this scene right here
Right into my heart ❤
This gave me so many feels. AAAHHHHHHHHHHHH
Melts away ;A;
I don't remember the last time I loved a couple this much, probably over a year ago.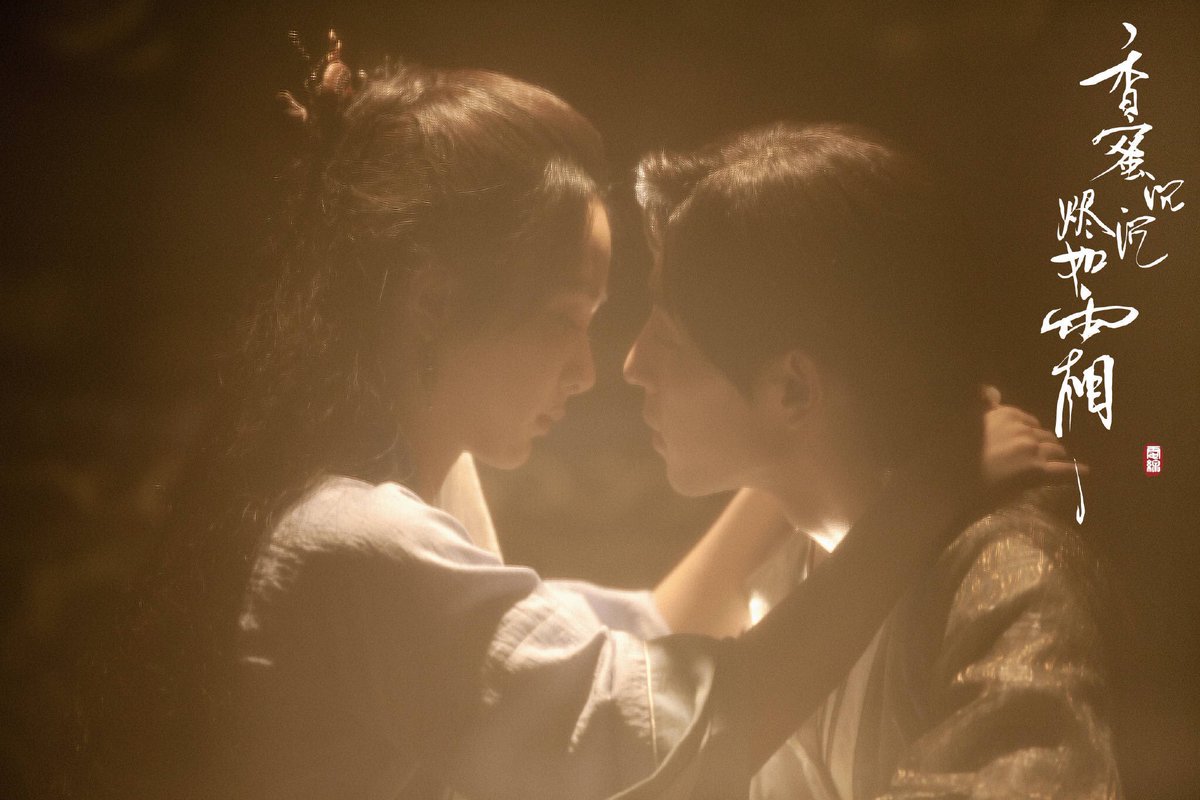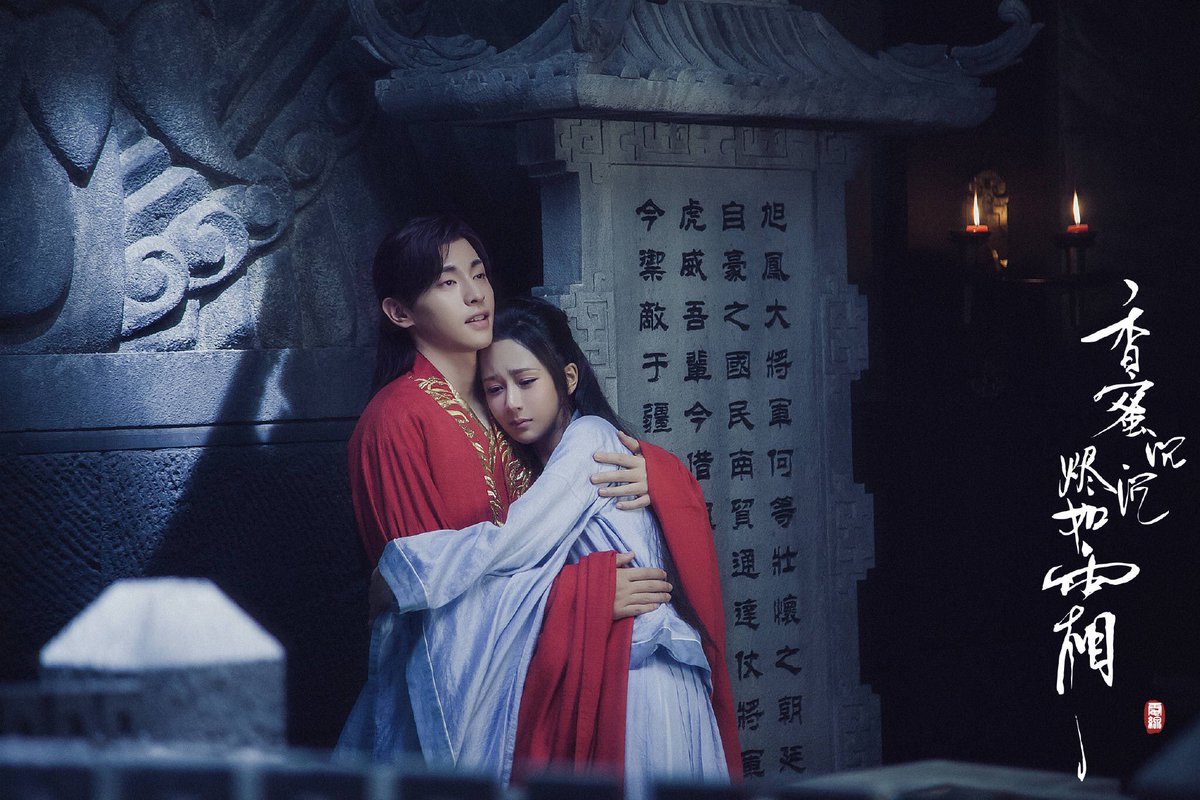 On a more serious note, one of the executive producers for the drama has been very active on weibo thanking fans and answering questions. Fans asked to get more weibo trends and he replied that they are poor and used up all their money on production so they can't buy weibo trends lol.
Rant Warning
Now the recent main issue is about secondary characters and how much screen time they are getting compared to the main roles. A lot of controversy about this. Overall, most fans feel that there is too much screen time for Run Yu's character. That his storyline was developed much more than any of our main leads and that it is taking away from the whole drama. While I do think some development for Run Yu was necessary so he could be more than a one dimensional villain, I agree with the criticism. We spent a lot of time into his background and story, but what about Xu Feng's background and story? He is regarded as a God of War and has all those scars, there are some stories to be told but we are just given a glimpse. What about his childhood? Just looking at both his parents I know there are stories to be told. Also, I personally feel that his character was dumbed down for the drama, which really annoys me. While Xu Feng was in love with JinMi, he was also a smart character. He just didn't think that JinMi would betray him. In the book, he even asks her who she would pick between them if she had to pick a side. Deng Lun is doing a great job with Xu Feng, but he was given very little to work with in terms of character development.
In the end, I am going to bring this back to the screenwriters.  For me the main reason I liked the drama so much was that it was sticking to its original material. There was also a lot of attention to detail, world-building during production, and actors were doing a great job, which only added to the drama. I hope somehow they are able to cramp up development for the two main characters in the last episodes because so far screenwriters have only fleshed out RunYu.
Let's just take Ten Miles of Peach Blossoms as an example of good book to drama changes. Disregarding all the time spent on the secondary love story, which was a lot, and just focusing on our main two characters. The drama spends a lot of time developing Yehua. He is fleshed out in the drama much more than in the book. I was hoping for additions to this drama to flesh out all the main characters and instead it is just focusing on Run Yu. I can't help but being annoyed at the screenwriters. They put out a statement defending themselves and to wait for the rest of the drama, but at this point it is just a number's game. We have very little episodes left to get adequate development of both Xu Feng and JinMi.
Now I still like the drama and I hope it ends up on a good note. But I can't stress enough the importance of a good script. There is no point on developing a villain if you are not going to develop the main leads. After all, this story is mainly about JinMi and Xu Feng. While not everyone is going to feel like this, I do think overall it is a shared sentiment among fans.
On the topic of screenwriters, I want to raise another issue that has been coming to light recently but that I am sure has been going on a while. Recently screenshots of conversations with screenwriters of this drama have been going around. Each controversial on its own, but I just want to talk about one where the screenwriter mentions that the original script was shorter. The first two actors to sign on where YangZi and Deng Lun. I assume that when they read the script they read the original version. According to the posts the first 20 episodes or so are from the original script but after they made major changes and added over 17 episodes of storyline. All these additions concerned supporting characters. In other words, the story that both actors read and the final story turned out to be completely different.
This wouldn't be the first time something like this has happened, I remember last year for Princess Agents we saw something similar. Zhao Liying even said in an interview that she was tricked into doing the drama. Then it came out that production had asked writers to add scenes for certain secondary characters and that they decided not to film the whole story. Then, early this year Liu Yifei expressed her unhappiness with changes to the script for Records of the Southern Mist House. In other words, a lot of these popular actors read a script that they like and they sign on to play a drama. However, once they start shooting they find out that the script was drastically changed but they are already contractually committed to the drama. It must be really frustrating for actors and honestly it is frustrating for us as viewers. I know some changes during production are normal but these big alterations to add more screen time for secondary characters to just lengthen the drama need to end. The changes add nothing to the story and just take away from overall enjoyment.
Sometimes I feel that Daylight entertainment is the only production company that I can trust to not do so many shady things. I guess that is why they are highly regarded but I just wish everyone would follow their example.
End Rant
Here have some cute to heal your soul.