Hello folks, here's a fun compilation series we are adding to the blog~
The surging of the dramas adapted from novels have pretty much been heavily populated in the Chinese entertainment industries with classic novels such as Journey to the West hitting both the small and big screens. In order to minimize the length of each part (hopefully this will be a series type of thing and we can write about older dramas later), we will pick more recent c-dramas adapted from novels to introduce/review for some of the viewers! As for folks that have seen any of these dramas so far, what's your review for that drama(s)?
Note: I've put the links to eng subs of drama series (most of them have some sort of subtitles) along with the NovelUpdates link (which will provide links of any group translating the novel along with novel reviews).
Reviews from authors of this blog are highlighted in their own colors and are written after each drama.
Title: (步步惊心 ) Bu Bu Jing Xin | English title: Scarlet Heart | Also known as: Startling By Each Step | Genre: Romance, period drama | Broadcast network: Hunan TV | Episodes: 35 | Broadcast period: 2011-Sep-10 to 2011-Sep-29
Drama Link: Scarlet Heart TV Series (Subbed by Viki team)
Novel Translation Link: Startling By Each Step by Tong Hua 
ChocolateCosmos: This drama pretty much introduced me to researching on Chinese romantic novels and revive my interest in Chinese entertainment. I remembered playing the ending song, Three Inches of Heaven, on repeat for months after watching this drama that was so memorable to me. Although some people who read the novel first have pointed out that the drama did not include all of the scenes from the novel, overall it was a solid adaptation and probably one of the better quality works from Tangren Media. It was the drama that propelled Liu Shi Shi to even greater fame and made me noticed more of her works after this drama. This was also the drama that helped blossom the love between Liu Shi Shi and her now husband, Nicky Wu who starred as fourth prince. Such a bonus for me who shipped Ruoxi and Fourth Prince since I felt sad after the drama ended lol.
fireflymaoh: I didn't read the novel, but I loved the drama. It was amazing and just beautifully done. A classic for me. The fact that Liu ShiShi married Nicky Wu made it even better, I felt like they had a fairytale ending. ❤
iiangelx3: I didn't read the novel either but this was one of the first few historicals that I watched. Still love it to this day!
Victaorious: Bubujingxin was the first Asian drama I ever watched… and I still consider one of the best dramas. Such high quality – from the cinematography to the acting, I loved this drama. It made me giddy and broke my heart at the same time. Fair warning: it is not a happy ending. But, I would (and have) watched it again! However, the leads ended up together, which makes this drama even more amazing. It produced a reel-to-real couple who are happily married 🙂 I have to admit, I did experience second lead syndrome (absolutely adored Lin Gengxin's 14th prince).
Title: (锦绣未央 ) Jin Xiu Wei Yang | English title: Princess Weiyoung| Genre: Romance, period drama | Broadcast network: Dragon TV | Episodes: 54 | Broadcast period: 2016-Nov-11 to 2016-Dec-9
Drama Link: Princess Weiyoung (Subbed by Dramafever)
Novel Translation Link: Princess Wei Yang by Qin Jian
Chexmix: Even though the drama and novel did not align at all (except for maybe some of the names and a little of the content), I still liked both nonetheless. Different but good in their own way. Though I still wish they could have translated Weiyoung's ruthlessness to the drama even if slightly. She would be such a badass female lead if they did! hahaha 
ChocolateCosmos: Definitely less female lead's ruthlessness than the novel and less brutal lol. A bit PG in my opinion, which is not bad. I agree with Chexmix that I wanted Weiyoung to be even more badass. Everyone did her wrong except Luo Jin's character aha. Luo Jin definitely shined in this drama and I love the couple's bts ❤
iiangelx3: I started the novel after watching the first few episodes but dropped the drama and finished the novel. I love the novel but I probably will never finish the drama. 
fireflymaoh: I also started reading the novel after the drama started. I thought the drama was really good at first but then it got draggy and repetitive and I ended up dropping it towards the end. I liked the main couple and both second leads, even if they were pretty evil. I really liked the novel and I wish the drama had adapted her ruthlessness, but I do realize it would have been hard to explain without the rebirth aspect. 
Title: (杉杉来了) Shan Shan Lai Le | English Title: Boss and Me | Also known as: 杉杉的美味爱情 Shan Shan De Mei Wei Ai Qing, 杉杉来吃 Shan Shan Lai Chi| Genre: Romance, Modern Drama | Episodes: 34 | Broadcast network: JSTV | Broadcast period: 2014-Jul-08 to 2014-Jul-20
Drama Link: Boss and Me TV Series (Episode 1) Unfortunately, Viki took down their channel for Boss and Me. I've linked the first episode on youtube (thanks to the subbers), and I saw that the related videos help direct people to the next episode or so. There are other sites when google searched for this drama, but I will refrain from posting them since I can't vouch for how safe their sites are.
Novel Adaptation Link: Come and Eat, Shan Shan by Gu Man
Fireflymaoh: I have read the novel and seen the drama like a million times. In fact, I am rewatching it as I write this. It is just a feel-good romantic story. I did like the novel better because it avoided a lot of unnecessary drama. It was sweeter and even more centered around their relationship. That being said the drama was a really good adaptation of the novel. Zhao Liying really captured ShanShan for me.
ChocolateCosmos: Gosh Shan Shan and Feng Teng are so cute together. Such a feel good drama like what fireflymaoh said. I like how even when the secondary leads were annoying, but eventually problems were resolved and the secondary leads aren't that bad (I was more forgiving on this drama lol). There was definitely more growth from Shan Shan in the drama compared to the novel that was more lighthearted. 
Victaorious: Before watching this drama, I did not know who Zhao Liying was. After watching this, I was intrigued and kept watching all of her works. I became a fan. Before that, I was not interested in C-dramas. However, Boss & Me is just such a touching and inspiring drama that was both fluffy and dark. Overall, it is a relatively light and sweet drama. Zhao Liying is so adorable as Shanshan… I was impressed by Shanshan's growth as a person, and Zhao Liying's portrayal. In general, the other characters were funny and entertaining! Not too much angst. It's one of my favourite dramas, and I adore Shanshan and Feng Teng together. It's one of the most shippable OTPs. Plus, it's a happy ending!
Chexmix:  Love both the novel and drama! I'm really glad they kept her monologue from the novel in the drama because those humor made the drama much more interesting. Also Gu Man's writing style made the novel a very easy read. Would definitely recommend her novels to anyone who want to do some light-hearted reading.  
Title: (微微一笑很倾城) Wei Wei Yi Xiao Hen Qing Cheng | English title: Love O2O | Also known as: Just One Smile is Alluring | Genre: Romance (Campus Love Story) | Episodes: 30 | Broadcast network: JSTV | Broadcast period: 2016-Aug-22
Drama Link: Love O2O TV Series (Subbed by Dramafever)
Novel Translation Link:  A Slight Smile is Very Alluring by Gu Man
ChocolateCosmos: Gaaaaah, so much pretty. This is one of the fluffiest dramas I have seen in recent years. I felt the romance for this was even more fluffy than Shan Shan sometimes lol. It was basically a smooth sailing romance story taking place on campus. The drama definitely did a solid job adapting the novel.
iiangelx3: Love, love the novel and drama! I agree it's one of the fluffiest dramas, and that's probably the reason why I love it so much. The two leads have so much trust towards each other they nothing gets in their way. 
fireflymaoh: I have not read the novel so far, but I am planning to read it one of these days. The drama has really pretty graphics, but I have been stuck on episode 19 for almost two years now, maybe one day. It looks fluffy and sweet.
Victaorious: At first, I was not excited for this drama. Although I like both leads, I have never been able to finish any of Zheng Shuang's dramas. While initially hesitant, I am so glad I watched it. If you're looking for a light, fluffy drama with no angst, this is it! I liked how the leads faced no obstacles and were able to be together from the beginning. Although I did not read the novel, I highly enjoyed the drama! Beautiful people, beautiful cinematography, and amazing chemistry amongst the whole cast. Very entertaining and heart-warming. Yang Yang is definitely alluring in this drama… 
Chexmix: This was the drama that got me into binge reading gaming novels! (Just this and King's Avatar) hahhaa It was such a novelty for me when I first watched it. I had a hard time following all the actions in words tho… I much prefer the visual in the drama.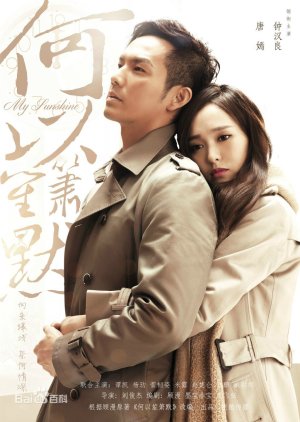 Title: (何以笙箫默) He Yi Sheng Xiao Mo | English title: My Sunshine | Also known as:  Silent Separation| Genre: Romance , Drama (School Life) | Episodes: 32 | Broadcast network: DragonTV | Broadcast period:  Jan 10, 2015 – Jan 25, 2015
Drama Link: My Sunshine (It is subbed online thanks to Viki volunteers)
Novel Translation Link:  Heyi Shengxiao Mo by Gu Man
Fireflymaoh: Another Gu Man adaptation and I also really liked this drama. Like with Boss & Me, I think the novel was better but that overall the drama did a good job adapting it. In this case, Wallace Chung as He Yi Chen is spot on. The flashbacks and actors playing them added a lot to this drama. I think I learned to like Mo Sheng thanks to Wu Qian, which did a fantastic job playing young Mo Sheng. Her chemistry with Luo Yun Xi was really good. 
ChocolateCosmos: Wallace was absolutely great! Thanks to this drama I've discovered Wu Qian and Luo Yun Xi. I can see why this type of story always tops the online contemporary novels for readers and why this drama spun a movie adaptation (which was less great to me…but I love the movie's songs lol).
Title: (孤芳不自赏) Gu Fang Bu Zi Shang | English title: General and I | Also known as:  A Lonesome Fragrance Waiting to be Appreciated| Genre: Romance , Historical | Episodes: 62 | Broadcast network: Hunan | Broadcast period:  Jan 2, 2017 – Feb 10, 2017
Drama Link: General and I (Subbed by Dramafever)
Novel Translation Link: Gu Fang Bu Zi Shang by Feng Nong
Chocolate Cosmos: The novel was alright, but I got frustrated with some of the secondary characters by the second half of the novel. As for the drama…. I dropped it few episodes in lol. It started off with changing the storyline and I wasn't in the mood to pick it back up since a lot of people gave rather negative reviews of the drama. 
fireflymaoh: I am also kind of stuck on this drama and novel. I am like halfway through both and been there for a while. 
Title: (琅琊榜) Lang Ya Bang | English title: Nirvana in Fire | Genre: Period drama, politics, revenge | Episodes: 54 |Broadcast network: Dragon TV, Beijing TV | Broadcast period: 2015-Sep-19 to 2015-Oct-15
Drama Link: Nirvana in Fire (Subbed by the wonderful Viki volunteers)
Novel Translation Link: Lang Ya Bang by Hai Yan
ChocolateCosmos: Superb costumes and scenery cinematography for a drama tv series. Although some of the scenes have slightly off lightning, overall, a solid drama. One of Hu Ge's best performances for me. The novel itself has quality writing and dwells less on secondary characters. The drama adaptation focuses more on some characters such as Princess Nihuang. Wu Lei was so cute 😀 
fireflymaoh: I never read this novel, but I loved the drama. It had amazing cinematography. Hu Ge was amazing as Mei ChangSu and in my opinion this is his best role by far. The drama feels a bit like The Count of Monte Cristo and it does it really well.
Title: (太子妃升职记) Tai Zi Fei Sheng Zhi Ji | English title: Go Princess Go | Genre: Comedy, Historical, Time- Travel | Episodes: 35 | Broadcast network: Letv | Broadcast period: 2015-Dec-13
Drama Link: I recommend typing "Go Princess Go Episode 1 Eng Sub" into your search engine. I cannot vouch for any of the other sites. Unfortunately, Viki has taken down the subbed videos for Go Princess Go. If you cannot find a site to watch it, I recommend reading recaps by dramakiwi, dramapanda, and others to get the feel of the storyline.
Novel Translation Link: The Promotion Record of A Crown Princess by Xian Cheng
Chocolate Cosmos: My guilty pleasure lol. The novel itself centers more on character growth and the female lead's turmoil of a modern day male turning into a female was definitely expanded upon in comparison to the drama. However, the drama did play up more on the comedy and you can tell the low budget of the drama which kind of adds to the tackiness of the drama's comedy being played out to the viewers. Even though the endings were not that great, I didn't really feel that frustrated because at the end of the day, I know that the novel has a nicer ending (lol) and that the drama itself was really aiming to make people laugh. They succeeded with me. 
fireflymaoh: I didn't even know this had a novel, but I enjoyed the drama. It was silly fun and ridiculous at times. It never took itself seriously and that was what made it fun for me. It was very campy. However, I did not like the ending and I will just choose to ignore the last 15 minutes or so.
---
Which one of these are your favorite? What are your opinions of these dramas adapted from novels?
Happy Lunar New Year folks~ Wishing you guys a year of fortune, joyous occasions, and strong health 🙂