Many people know of Huang Zitao (Tao), but here is his moving life story that converted me from a neutral to a fan… I hope it will dispel some misconceptions and provide an overview of the person he is:
As the only child of a billionaire father (7th richest man in China), Tao was not interested in/did not excel in school. So, he left home at age 14 to make it on his own. He worked odd jobs to support himself, even donning costumes to hand out flyers on the street. When his father passed by him on the street, he would cry but did not force him to come home. By age 20, Tao bought houses for his parents. To this day, he has never taken any money from them
Even then, Tao saved up money to buy clothes for his grandma and lied about its price so his grandmother would not feel like he is spending too much money on her
During that time, Tao also learned sign language to communicate with his deaf-mute best friend, ChenChen (he later volunteered at a school by using sign language to teach deaf students to dance). Tao also taught EXO members sign language and their Sailor Moon hand gesture was taught to other members by Tao. In sign language, the hand gesture means "I love you". When they were kids, Tao promised ChenChen that he would "take him to the places he wanted to go, eat the food he wanted to eat, and they'll spend as much time there as they wanted". As a child, ChenChen was often bullied because of he was deaf, and Tao vowed to make it big one day and take care of him so he would not suffer in the hands of other people and work a mediocre job (http://fuckyeahzitao.tumblr.com/post/75391206369/taos-deaf-friend)
At 16, Tao was discovered by talent agents.
After moving to Seoul, Tao had less than a year to prepare for his debut as an EXO member. He was taking Korean language classes along with preparing for debut/performances, leaving him to sleep less than 5 hours a night. It also caused Tao to make many mistakes and he got a lot of hate. He was also bullied as a trainee. But, what people don't know is that Tao actually begged to debut later with a different group, but SM did not allow him to do so. So, Tao actually shared a room with EXO's manager in the beginning to learn Korean.
When he first went to Korea, he didn't know any Korean, so he called Xiumin "oppa", which is what he had seen girls do in K-dramas. Xiumin was freaked out by this tall guy call him oppa.
Tao's father flew to South Korea and dragged him to get treatment in Los Angeles.  He also wrote an emotional post outlining the reasons why he was "bringing Tao back home". If he did not receive medical attention and rest after his compounding injuries, Tao may not be able to walk ever again (full record of his injuries: https://omonatheydidnt.livejournal.com/15621030.html). Of the EXO members who left, Tao is the only one to be completely released from his contract with SM due to inhumane treatment. SM did not allow him to take time off to receive treatment or rest.
Pre-debut:
After debuting:
In 2012, Tao protected a pregnant lady against the hoards of people at the shopping mall when it got too crowded
Tao helping fans with their trolleys at the airport when they are struggling. Apologising to fans for waiting too long
Even when he's injured, he keeps going without complaining and worries about his fans by reassuring them over and over again to not worry
He is sensitive and filial: " I often cry, that is the truth. But, I never cry over my injuries. I had 43 stitches done on my head and I never cried over that as a kid. But I cry each time because of my family, because of emotion, my friends around me, and each time I part from someone, or when I think back of the times that I can no longer return to… that's what makes me cry." "Granny had a small surgery done and I couldn't make it back because of work. So that day when I saw her video, I felt really bad and cried." He revealed that he never thought he would leave his parents when he was young, but never expected himself to grow so quickly. His favorite dishes are those made by his granny but he doesn't know how many more times he'll get to eat them." Link: https://www.youtube.com/watch?v=FqqiYHxox9o&list=LLbtvTuinrBAseB4PLEZ3Vtg&index=217
Tao started learning martial arts at 5 years old, participated in competitions and won a lot of prizes. Right now, he can't practice all the time, but he will often do stretches. Because he had a good foundation, Tao's wanted by people in the industry. Jackie Chan took one look at his training video and decided to invite him on for the movie, Railroad Tigers
Tao makes movies and dramas to gain exposure so that he can bring C-Pop to the world. "To many people, making music is to lose money." But, he doesn't care about that. "I'm not in need of money. The downturn in the music industry doesn't affect me. I want to be first in the things that I want to do. Even if the music industry is really bad, or even if it becomes better, I definitely want to become number 1." "I never thought about making money for making music. I just want to make it! like music, make music! And doing so, one has to pay the price. definitely, if you want to be the best, you have to put in effort, pay the price for it. The price is money! You don't make money from making music. My MVs are all about 3 to 5 hundred thousands and above. A concert easily costs over millions. How do you expect me to earn from it? You can't. I have 4 studios in different cities. My main difficulty now is not having the time for me to make my music. So long as I make my music, there is no difficulty. So long as I can do it, to me there's no difficulty. Music is too simple."
Tao does all of his own stunts and have injured many times, but always continued filming for fear of delaying the filming schedule and holding up the crew: http://myprincecandy.tumblr.com/post/146876943957/eng-20160704-netease-article-on-ztao, http://myprincecandy.tumblr.com/post/152319182182/eng-20161026-netease-entertainment-huang
He's still so simple, silly, honest, straightforward
Who Tao really is:
Despite being demonized, Tao's perseverance has never wavered. He works tirelessly to the point where posted this a few weeks ago (at this time, Tao was only getting 3 hours of sleep a night):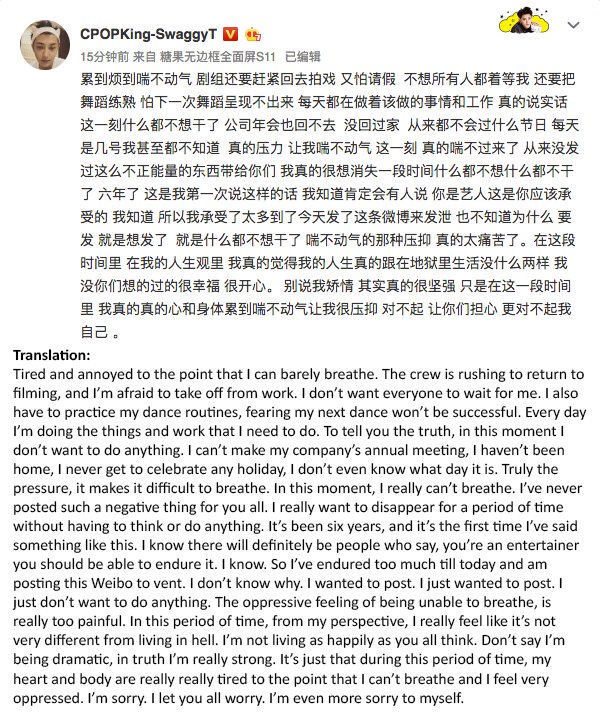 Success did not come easily to him. Tao made many sacrifices to get to this point
His biggest scandal where he was bashed publicly was when he arrived late and was led by Versace staff to his front row seat to pass through the runway while the show was going on. Grazia (whose reporters following Tao for an exclusive interview revealed the truth):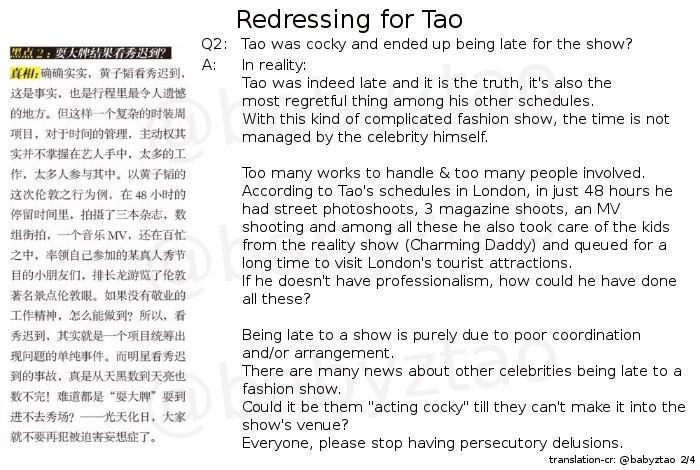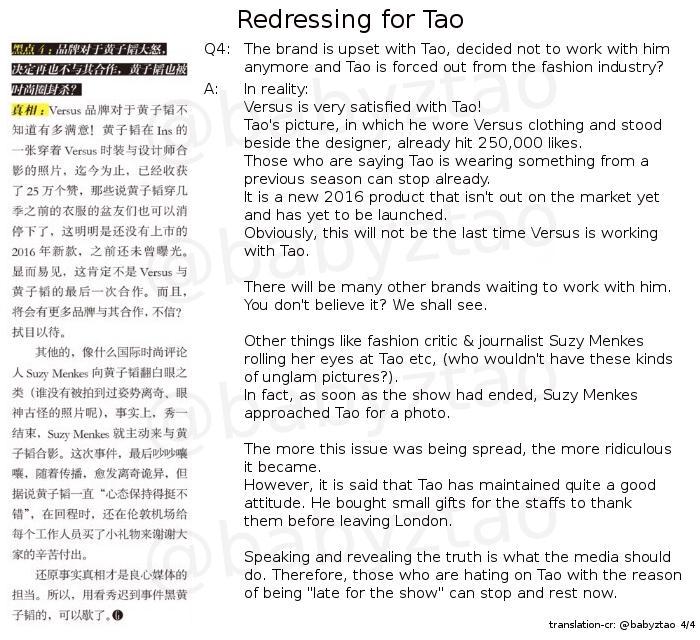 Lastly, I will end this post with Tao's costars and directors' take on him:
Despite his outward appearance and happy, funny persona, Tao is a very professional and dedicated person to his dreams, to his family, and to his friends. I hope I was able to portray Tao as a person with heart and aspirations, and not just as an artist.
But, that's not to say, he doesn't have a pretty face…
Though Tao may be young (currently 24 years old), he has gone through a lot and is mature beyond his years. His persistence to continue in this path shows how serious he is in being an artist when he can take a much easier road in life.