Zhao Liying attended the Mobile Video Festival and picked up an award for "The Most Influential Video Star of the Year"
Currently, Zhao Liying serves as the Vice-President of Technology for Yixia Technology. TF boys have recently been hired by Yixia (aka the company behind Weibo's live streaming provider, Yizhibo, and China's top video blogging app Miaopai). Lately, many celebrities have been joining companies as executives as companies try to circumvent the newly amended China Advertising Law effective starting September 2015. The law, which aims to strengthen consumer protection, has led to stricter rules over celebrity endorsement. Under the law, where there are false claims in an advertisement, the celebrity endorser can be held liable and banned from appearing in advertisements in the next three years. So, being hired by the company is, in fact, a way to endorse a brand.
Kris Wu is China's official Super Bowl LII ambassador. Hence, he will perform at Super Bowl LIVE (the fan festival) on February 3rd.
He's the first Chinese singer to be invited to perform!
Jackson Yee (of the TF boys) was the only Chinese celebrity to be invited to the Grammys. He attended in this outfit: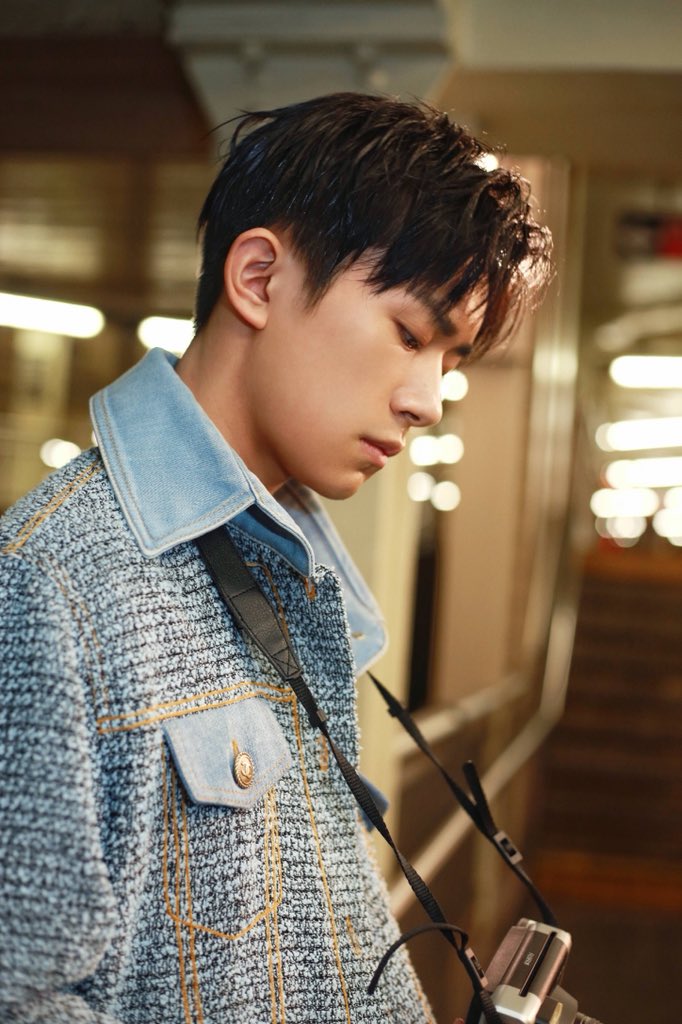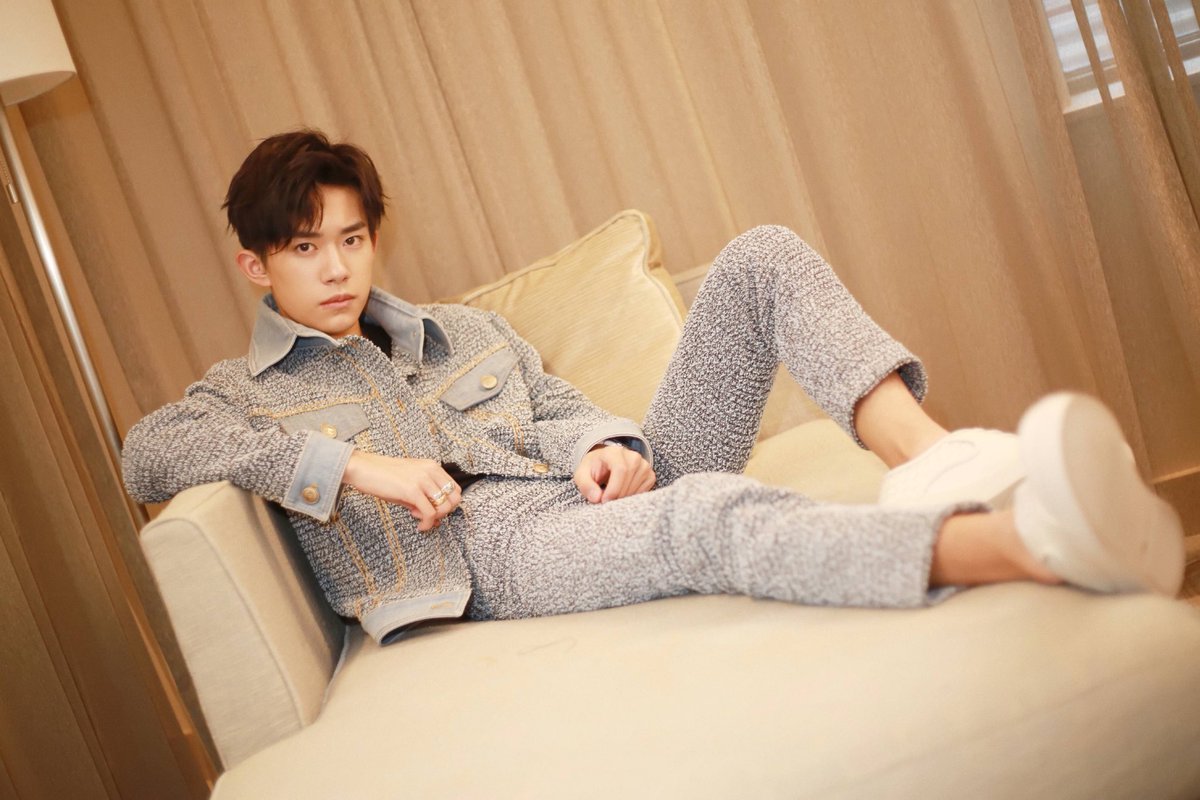 Rehearsals are underway for the Spring Festival Gala
Jackie Chan
Ruby Lin
Jin Dong
Jing Tian and Guan Xiaotong
MAGAZINE PHOTOSHOOTS
Song Zu'er
Zhang Ziyi
Li Qin
Huang Zitao
Gillian Chung, of Twins, is engaged! After a 4 month whirlwind romance, the singer accepted a marriage proposal from Michael Lai, a Taiwanese doctor. The couple started dating October of last year.
Michael proposed on Gillian's birthday. They were at her house, and he knelt on one knee to ask her to marry him. Gillian waited one week before making the big announcement.
Gillian says, "he treats me very well. I think I met the right person at the right time." Also, "he tolerates all my bad habits. I told him from the start of our relationship. I showed all my flaws to him. He is able to accept everything. This is very important. I'm not a fake person who packages herself." Despite the long distance, they were able to treasure every moment. In addition, Gillian filmed the web drama, Tree in the River, and stayed in Taipei for a few months.
Right before he met Gillian, Michael was married to his ex-wife for six months. Not long after, a photo of Michael in bed with another woman circulated the Internet.
Meanwhile, Li Bing Bing's 27-year-old boyfriend has been revealed for the first time.
Li Bingbing first confirmed her relationship with Hsu Wen Nan, a Chinese businessman, on Weibo in January 2017 by sharing a photo of the two gazing lovingly at each other in matching white T-shirts on the beach, as she wrote that "everything has been arranged for the best".
Due to the couple's 17 year age gap, much media attention has focused on this relationship. Currently, reports claim that the couple are in talks for marriage.
So, the latest in the Li Xiaolu cheating scandal is that Jia Nailiang (贾乃亮) has left the family home. It appears that their 8-year marriage could not be saved. After the affair was exposed, Jia Nailiang stopped wearing his wedding ring and has been pictured drinking himself to oblivion. Now, he has moved out of their family home. Essentially, a neighbor who lives near them noticed Jia Nailiang's 3 luxury cars are missing from the garage. He took the Lamborghini, 2 Ferraris as well as the Mercedes-Benz G65. But, he intentionally left the Bentley that Li Xiaolu drove the night she slept at PG One's house.
Last month, he had broken his silence and spoke about the matter. On January 6, Jia Nailiang addressed reports surrounding his wife's alleged affair on Weibo.
"Only a week has passed, but it felt like a century. I really do not like being an inconvenience to others, but my recent family matters have started to get in the way of people I care about. It had gotten to the point where I would soon be unable to hear my own heartbeat. I feel like a walking zombie leaving work every day. But, for my family, I have to clench my jaw to endure the storm. Now I'm being labeled with the term that many men hate to be associated with—the green hat!"
"Xiaolu, as the mother of our child, is being labeled as someone who doesn't care about her family. My precious daughter has become the sacrifice of a marriage! You may not be able to see this, but this gossip has affected my parents and my in-laws. They are scared to leave the house and they have all fallen ill. Tian Xin is sick with a fever, and through our video chat, she smiled and cried telling me how much she missed me. Do you guys know how I felt then? My heart was crying blood. I have no right to put the blame on anyone. When I see my family in pain, all I can do is blame myself. I am sorry to Tian Xin, your father has made you suffer through so much at such an innocent young age. I am sorry to my in-laws and my parents, you should be enjoying your time in the age of happiness and not having to worry about your children."
"I am also sorry to Lulu. Perhaps, I didn't do well enough. I wanted to do my best to give the world to you. But, even after using all my power, I was unable to balance my family and work. Now that I've said this, I'm getting flashbacks of the day I proposed, of the vows I made to Xiaolu, every word in my head. I remember seeing the helpless look in her eyes as I was in the delivery room with her, and in that moment, I vowed to give her a perfect fairytale ending. But, in the end, that has become my biggest regret. Please leave us some space. No matter what the road looks like in the future, please let us handle this ourselves. I also plead with everyone to stop hurting my family. I do believe in sunny days after the rain."
They were once so happy…
Lastly, Tao released a new MV for a new single, Beggar.
And Luhan re-posted Tao's Weibo post in support! Their interactions are so cute.
Throwback to the EXO days…