Entertainment Update: Princess Agents hits 40 billion online views after airing episode 58/59 (TV version) making it the first drama to hit that high of a view while still airing! XD
Drama News
Ending themesong to "The King's Woman" starring Dilmurat Dilreba and Zhang Vin. The drama will air August 14th on  Zhejiang TV
Press conference for the drama
(They look so cute together. XD)
Dilireba teasing Zhang Vin at the press con.
Wuxin: Monster Killer 2 starring Elvis Han and Chen Yao is back with some more stills and a long 9 minutes trailer. The drama is expected to air on August 14 on online platforms.
Opening MV for the drama
The Evolution of Our Love announces lineup with Zhang RuoYun, Zhang Tian, Xu Weizhou, and Wang Shan Ho. Production team is the one behind Tiger Mom, The First Half of my Life, and Ruyi's Royal Love in the Palace.
 Mr. Right is a drama filming right now that is set to air late in the second half of the year starring Jin Dong and Maggie Jiang.
I saw this gif and now I will patiently wait for this drama to air.
Jin Dong will also play a guest role in Zhao Liying's drama Our Glamorous Time as her brother.
Drama Heavy Sweetness, Ash like Frost releases stills for Deng Lun and YangZi
I was expecting Deng Lun's outfits to be a bit more flashy, but we will see what they do with his character.
Movie News
New trailer to movie Once Upon A Time starring Liu Yifei and Yang Yang.
BTS of the movie
Young Detective Dee 2 starring Mark Chao, Lin GengXin, and Feng Shao Feng finished filming and had a wrap up party.
Variety News
New season of UpIdol confirmed Victoria Song, Jiang Xin, Tang Yixing, Shen Meng Chen, Michelle Chen, and Kwan Chi-lin as the lineups. The first episode will premiere August 4th! The show is about sisterly bond between female celebrities.
Victoria Song
Jiang Xin
Tang Yixing
Shen Meng Chen
Michelle Chen
Kwan Chi-lin
Episode 1
72 Floors of Mystery finished airing and they are already floating rumors for another season.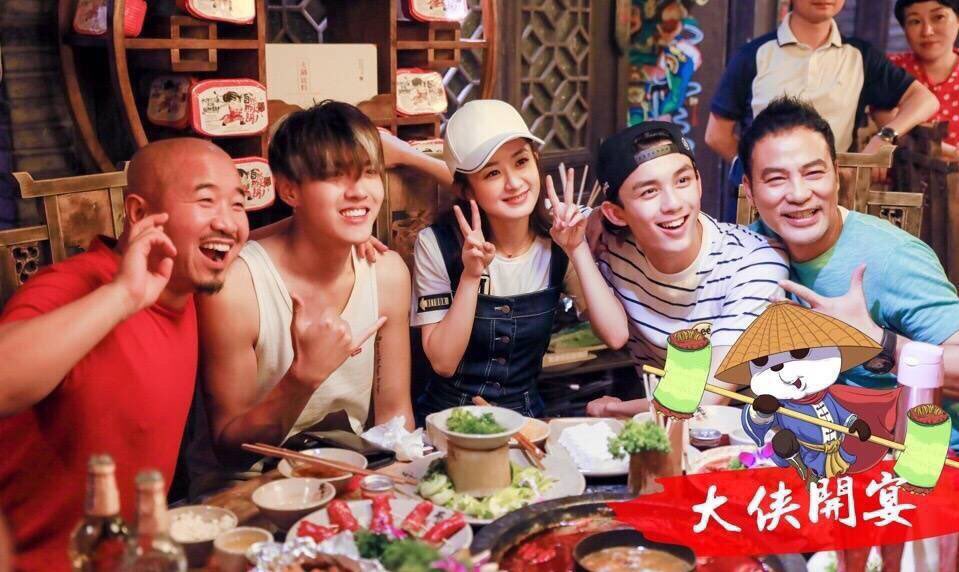 Celebrity News
Lin Geng Xin has gotten much more popular after Princess Agents, which resulted in a lot of paparazzi following him around.
These days paparazzi follow you everywhere you go. Driving around hiding and coming to sharp stops, watching a movie about spies is not as satisfying as watching you. Did you get a good shot? Are you looking forward to me making a mistake or falling in love? Should The Eyes of God lend you a helping hand? Please care less about me and more about your own friends and family, thank you.
Fans have also been following him around, which he is not used to since he usually walks around like a non-celeb. He still took some time to sign autographs.
Lin Geng Xin and Mark Chao's friendship was trending on weibo so I have to share some of their cute moments.
During one interview a reporter asked Lin Geng Xin if he envies that Mark Chao married the National Goddess (Gao Yuan Yuan) and Lin Geng Xin replied that he doesn't envy it, he hates it. Someone wants his best friend all to himself.
July Rankings by Vlinkage
Top 10: Zhao Li Ying, Lin GengXin, Shawn Dou, Jin Dong, Zheng Shuang, Lu Han, Li Qin, Yang Mi, Dilireba