My reaction when his mom died too…. =(
Princess Agents is a 2017 Chinese television series based on the novel 11 Chu Te Gong Huang Fei (11处特工皇妃) written by Xiao Xiang Dong Er. It stars Zhao Liying, Lin Gengxin, Shawn Dou and Li Qin.
Title: Princess Agents (特工皇妃楚乔传)
Episodes: 58
Release date:  June 5th, 2017  2 episodes every Monday to Thursday on Hunan TV
Where to watch: watch it on youtube with Eng Sub!
Episode 24
The general escorts Yan Xun and A Chu to Jiu You platform for the execution while all the lords and officials sit high above to watch the show. The consort brings Chun Er and Yuan Song to a private room with the view of the platform. When Yuwen Yue steps out for the announcement of the vice supervising officer, A Chu was shocked and Yan Xun felt betrayed. Yuwen Huai steps out as the main supervising officer with a decree from the king declaring the death punishments toward the Yans due to Yan Bei rebelling. The king pardoned Yan Xun since he is not involved in the affair but as punishment, he must identify the heads of his family members. Beside him and his mom, all the Yan family had been killed.
After finish reading the decree, Yuwen Huai walks toward Yan Xun and orders him to kneel and accept it. They try to force him to kneel but he stands firm with anger. Using brute force, he flings the decree away. But that itself is a crime. Yuwen Huai signals for the guards to hold him down and slowly walk toward the golden boxes on stage. He pulls out the first head, Yan Xun's dad. Yan Xun rages after he saw his dad's head while everyone above watches the event play out gleefully. He knocks the guards off, breaks free from his cuff, and starts to barge toward Yuwen Huai. But with so many guards against him, each with one stab, Yan Xun falls to the ground before reaching Yuwen Huai. Already half dead but still does not want to accept the decree, Yan Xun slowly crawls toward Yuwen Huai. If Yan Xun choose not to accept the decree, Yuwen Huai will kill him. Chun Er begs her mom to help and Yuwen Yue tells Yuwen Huai to stop the identification part but the show continues. A Chu struggles to help but to no avail. Yan Xun continues to crawl his way toward the heads as the hidden shooters keep shooting him down.
Yan Xun's mom shows up and declares that she will identify the corpses under the king's permission. They are her family, her husband, her kids. She has every right to identify them. She walks toward the stage and rushes toward the half dead Yan Xun. Yan Xun wails his sorrow within his mom's embrace. He asks "why?" His mom asks if he believes in his dad. She tells him that this is the normal food chain of society where tiger eats rabbit, rabbit eats grass. There's no good reason.
Yan Xun's mom walks toward the golden box with Yan Sicheng's head. With each scar on his face, she tells the heroic stories on when he fought for the country against invasions and broke thru thousands of troops to save the king. Countless times, he had saved the king and even the very same people that sit high up watching the show. With that, she confirms that the head belonged to her husband, Yan Sicheng. However, Yuwen Huai grows impatient with her. He asks her where is the king's decree. Since it's not there, he signals the guards to kill Yan Xun for not obeying the king's first decree.
Episode 25

Yan Xun's mother continues to identity the heads of her family members. One by one, she recounts the time when they bravely sacrifice themselves to defend the country and the people that killed them. After the last one, she asks all those who sit up there to judge how her family can betray the country. She walks toward Yan Xun and tells him to stop crying. Men in the Yan family rather bleed than cry. She pushes him down and flings her head against the cauldron to submit suicide.
Yan Xun crawls up the stage once again toward his mom. He asks her how can she leave him alone like that. With her last breath, she tells him to live on no matter what. Live for Yan Bei and it's citizens. He wails in anger and sadness when she passed away. Before Yuwen Huai can signal the guards to kill him, the king's decree arrive declaring that Yan Xun is pardoned from death. Some heave a sigh of relief while others begrudgingly let the moment slip thru.
After that epic highlight, everyone starts to scheme and plan for the next step. Chun Er returns to the palace feeling defeated that she could not help her Yan Xun Ge Ge at all. The Wei family wants to kill Yan Xun to claim Yan Bei but don't want to be the main force. They wanted to use Yuwen Huai as the knife but he is not dumb enough to fall for their scheme. Instead, he sends a secret message to Da Liang princess. Yuwen Yue also received a message from the Wei family, but asking for him to save Yan Xun instead. Each side sends forces to either protect or kill Luo official who is in charge of the prison in order get to Yan Xun without causing a commotion. Yuwen Yue secretly meets up with Chun Er and asks her for help with a plan to save Yan Xun.
A Chu is taking care of Yan Xun since they are housed in the same cell. Da Liang princess sends her people to directly kill Luo official and infiltrate the prison. The assassin pretends to be a supporter of Yan Bei and offers porridge to Yan Xun. A Chu takes the porridge and pours it on the ground instead. Not long after, the rat died after eating it. The guard comes back and sees that A Chu hadn't fell for the scheme. He points his arrow at her but she uses Feng Yun Ling's whereabouts as bait to lure the guard's interest and kills the guard in one swift punch to the throat.
Next to the half dead Yan Xun who no longer have the will to live, A Chu encourages him to live on. She tells him that dying is easy. No pain. No hate. It's like a long sleep. The hard part is when you want to die but you have to keep living. Watching her love one dying one by one and their bodies being dumped like trash. She believes that even slaves have the right to life. "I don't get why wolves eat rabbits and rabbits can't fight back but now I know. That's cause rabbits are weak. I'm weak right now. But I'll become strong. What I have is patient and time. Those who owe me cannot escape. I will be get revenge on them." She asks Yan Xun for the will to live on to take revenge for his family. For him not to give up and let his enemies off so easily. Yan Xun tightens his fist and opens his eyes in the end.
Episode 26
Zhong Yu plans to rescue Yan Xun from prison but before her people can break in, Da Liang people was there to stop the plan. During the chaos, Zhao Xi Feng sneaks into the prison to get his revenge on A Chu. He wants her to pay back the two fingers that she cut off of him. Yan Xun tells him that if it's fingers he want then take his instead. Zhao Xifeng throws the knife at him and tells him to cut his finger off himself. A Chu begs Yan Xun not too but he tells her that her life is worth it. He grabs the knife and decisively slice off his pinky. Before Zhao Xifeng can torture them some more, his people had to leave before the guards rush in.
Yuwen Yue heard the news and rushes to the prison to visit them. Yan Xun confronts him regarding his duty toward the king. If he really was the one who shot the last arrow that prevented Yan Xun from leaving. Did he know about the king's suspicion toward Yan Bei and wanted to kill his family. Yuwen Yue did not deny any of it. He tells Yan Xun that he had been hinting to him all along but Yan Xun snaps and yells that their 10 years of friendship and the whole Yan family only deserved a hint? He cut all ties with Yuwen Yue and tells him to leave. Which he obliges without a second word but secretly guards the outside prison for any assassins.
The king asks the eunuch who he can appoint as the new leader of Yan Bei. The eunuch suggests several lords and princes but the king is not pleased with the choices. He then suggests people that are older and less ambition which the king is more pleased. On the other side, Yuwen Yue also starts to rule out people that might be fit to rule Yan Bei. After he orders his people to rule out certain certain criteria and was left with 3. He sends that information to Chun Er and spreads news regarding those three so that there will be a struggle for the position to inherit Yan Bei and this will help Yan Xun.
Because everyone is fighting for Yan Bei and the king has no trust in anyone with too much power, even his own son, the king struggles to find a proper replacement for Yan Bei. He needs someone that can lead an army but has no chance in rebelling. Even though the king is leaning toward the three that Yuwen Yue picked out but because those three are from the same hometown as the eunuch, Chun Er uses that information to warns the eunuch that recommending them might lead to the king mistrust in him and thinking that he is in for power as well. As Chun Er suggested, the eunuch recommends Yan Xun as the heir to Yan Bei in front of the king. Since Yan Xun has no power and is still recovering this will give the king time to find a proper replacement in the future.
Episode 27
Since he can no longer touch Yan Xun, Yuwen Huai plans to get to A Chu instead. Using the case of killing his grandfather as excuse, he authorizes the official to summons A Chu to interrogate her. He wants her to tell him that Yuwen Yue is the one who ordered her to kill the old man but she didn't say much. Yuwen Yue arrives in time and wants to take A Chu with her. But he is denied that request. In order to save her, he kills her. In her last moment, she hears him say that a woman who he cannot control is better off dead.
Yuwen Yue take A Chu's corpse with him but before they returned to Qing Shan Yuan, the king summons him. Since he only cut off A Chu's blood circulate to make it seem like she's dead, he needs to recirculate her blood again soon before it's too late. While the king is talking to him, he keeps starring at the time. The king tells him to give up the power of Eyes of God and hand it over to Yuwen Huai. He obliges and leaves. Yuwen Yue rushes back to Qing Shan Yuan but because both him and Yue Qi was not there, the corpse was taken to the dump. He rushes to where bodies are taken but could no find A Chu's body at all. He questions the people around and they told him that because of a plaque, they were ordered to burn all female corpses. In the pile of ashes, Yuwen Yue finds the ring weapon that he gifted Xing Er and believes that she is among that pile of ashes.
Yuewen Yue returns to Qing Shan Yuan and drinks his sorrow away. Yuwen Huai thought that it was because he lost Eyes of God. By the order of the king, Yuwen Yue hands over the Eyes of God to Yuwen Huai. He shows him all the secrets that lies within of Eyes of God. Secrets that all the powerful families rather keep hidden. Because of these secrets, the owner of Eyes of God is always in constant danger of being assassinated. Along with all the secrets, he also show Yuwen Huai a button that can destroy the who infrastructure and the secrets along. He tells him that he's really tired of being constantly watched and burdened by these responsibilities. He gladly hand over the power to Yuwen Huai. That scares Yuwen Huai into slamming his fist onto the button and destroying all the secrets in the Eyes of God. Yuwen Yue walks away and thanks Yuwen Huai for replacing him.
In order to stabilize Yan Bei, the king decides to pardon Yan Xun and imprisons him in a manor. 3 years later he will be allowed to go back to Yan Bei. Yan Xun leaves the prison with Zhong Yu and A Chu (masked with a cover) welcoming him. They enter the manor that the king prepared and surrounded with guards. At night, Yan Xun asks A Chu how did she escaped. She tells him that Zhong Yu saved her and her two little sisters after Yuwen Yue killed her. While debating who get to sleep on the bed, A Chu offers to keep watch while he sleeps. At night, Yan Xun wakes up to find A Chu already asleep. He carries her to bed and takes over the guarding part. He did not smile once since he left the prison…=(
Chexmix: I was bawling my eyes out during these episodes!! Yan Xun's anger, desperation, sadness, stubbornness and all other emotions are all so raw under Shawn's performance. And the constant panning of the smirks and smiles of those people who just sit there and enjoy this tragedy that befall on him makes me root for Yan Xun even more! This is one of the main turning points in this drama and I have to applaud that is it well done. It really captures the stem of the wickedness in this society with the separations between strong and weak, upper class and lower class. Parents and elders (Wei old guy, Wei consort, even Yan Xun's mom) all teaches their kid that this is a wolves eat rabbits kind of world. If you're not the wolves then you are the rabbits that get eaten. Of course some turn out better than others (Yan Xun and that Wei Shuye guy) but others follow those lessons and laugh at those that fall in order for them to remain on top. The whole theme of this drama is the unfair hierarchy of society and how Chu Qiao fights to break down that hierarchy so these episodes also mark a new level in her determination to do so.
Funny BTS of the sad prison scene.
Princess Agents surpassed 15 billion online views after only 3 weeks! and the TV rating broke 2.0% (This is a very good rating in China)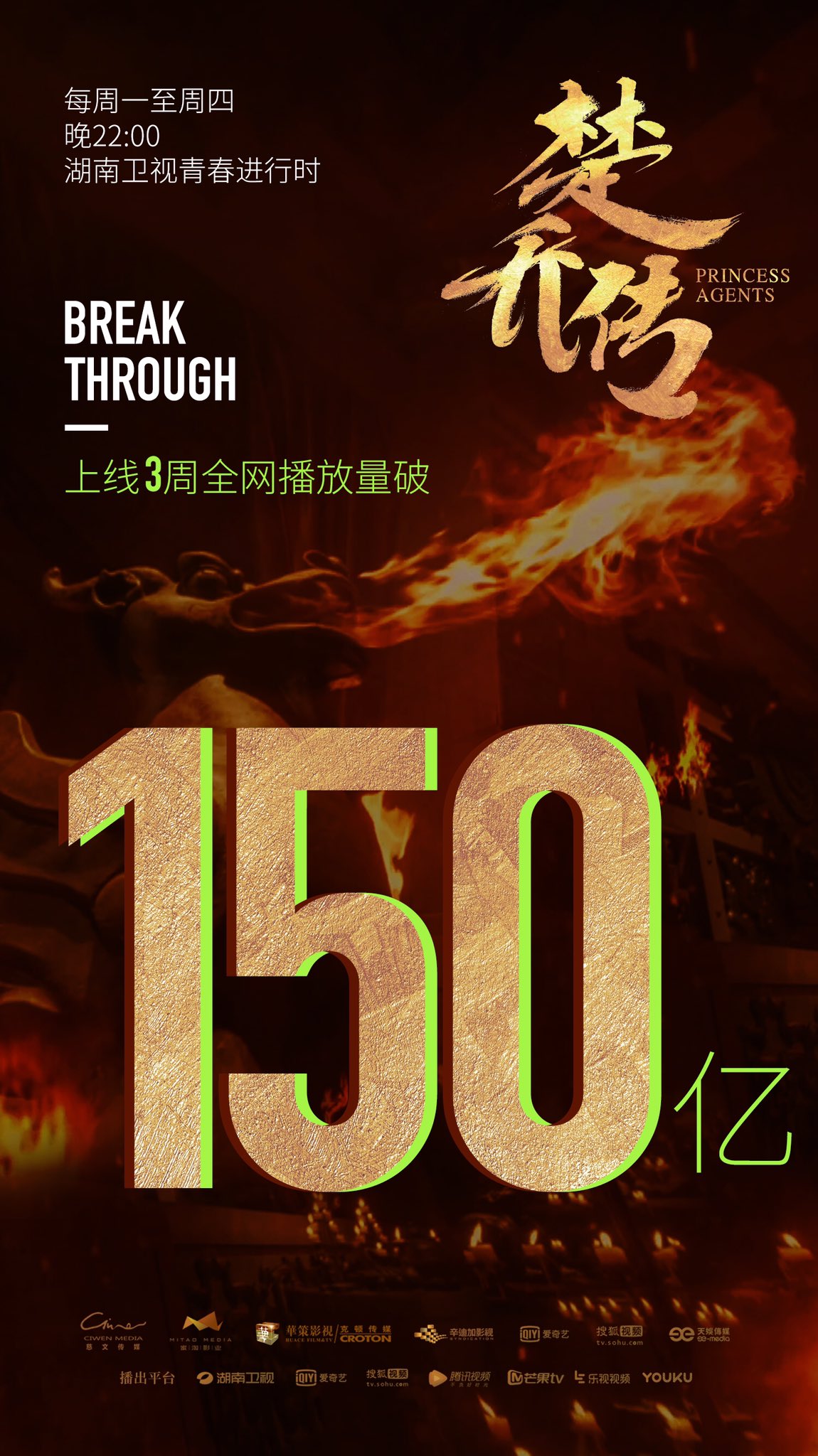 P.S We've been having problems with photobucket who restricted 3rd party hosting. The pictures are not showing up for some but shows up on other in the older posts. Not sure how many are having this problem. There's a poll below. If you can just go to the first Princess Agents recap post and let me know if you see the pictures of not. Appreciated! Thank you!