A few days back, Princess Agents teased about the "mysterious" singers for the opening theme song. Netz guessed it right away that it would be Zhao Liying and Zhang BiChen and Liying confirmed it when she posted on Weibo the two of them at the studio (if anyone is wondering… Bichen is the also singer for  3l3w theme song, Liang Liang)
Drama News
The opening theme song will be released on the 26th! So curious on the opening theme song and Liying will be singing
Their cute litter "teaser" for the MV
Newly released BTS of Liying dazing out!
And new trailer (a lot are from the same scenes as the first trailer but a bit more well rounded. It covers other characters too and not just centered around Liying. Who else is pumped for this drama?!)
Rush to the Dead Summer starring Zheng Xuan and Chen Xue Dong released new summerly stills. This drama is slated to air in June
A lovely new trailer that makes you look forward to the summer!
Empress of Du Gu starring Chen Qiao En and Chen Xiao released their first batch of stills!
Some BTS of the shooting where the dog kept following and laying on Qiao'En's long dress
SO CUTE!
A Lifetime Love is a drama adapted from a novel with the same name (or more known as Once Promised) written by Tong Hua (who also wrote other famous adapted dramas Scarlet Heart, Ballad of Desert, A Starry Night A Starry Sea). It stars Huang Xiao Ming and Victoria Song and is expected to be released this summer in July (so many dramas this summer! I'm a little curious about this drama… anyone read the novel? How is it?)
Actually did not know that Peter Sheng is in this drama also…..He's everywhere now!
Untouchable Lovers starring Guan Xiaotong and Song Wei Long celebrated the completion of filming with a powered face instead of the classical cake face!
(I think they're trying to compete against Marge Simpson for the tallest hair here or something….)
This year's Magnolia award will be held on June 12-16, 2017 in Shanghai. The top 5 in each category is already announced! (I know a lot of people ask about the prestige of these awards so I will say that Magnolia is one of the highest and most prestige awards awarded to people in the industry. Most of the categories are award based on through voting by a panel of award-winning actors, producers, directors and writers, and are the highest industry honours given). There are a lot of categories but for nominations, I'll just cover dramas, best actor, and best actress
 Top 10 nominees for Best Drama:
Top 5 nominees for Best Actor:
Chen Jian Bin for the Last Visa
Huang Lei for A Love For Separation
Sun Hong Lei for To Be a Better Man
Zhang Yi for Feather Flies To the Sky
Mark Chao for Eternal Love
Top 5 nominees for Best Actress:
Hai Qing for A Love For Separation
Jiang Xin for Ode to Joy
Liu Tao for Ode to Joy
Ma YiLi for Chinese Style Relationship
Yin Tao for Feather Flies to the Sky
Other than that Ode to Joy actors and actresses got a lot of nominations. Jin Dong, Wang Ziwen, and Yang Zi got all nominated for best Supporting Actor/Actress for that drama. Dilireba got nominated Best supporting actress for Eternal Love. No surprised that In the Name of the People got on the list this early on
Variety News
Sandra Ma and Zhang Ruo Yun were trending after their Beauty and the Beast performance in Happy Camp
The episode also included the cast of Fighter of Destiny. Nazha's outfit is so cute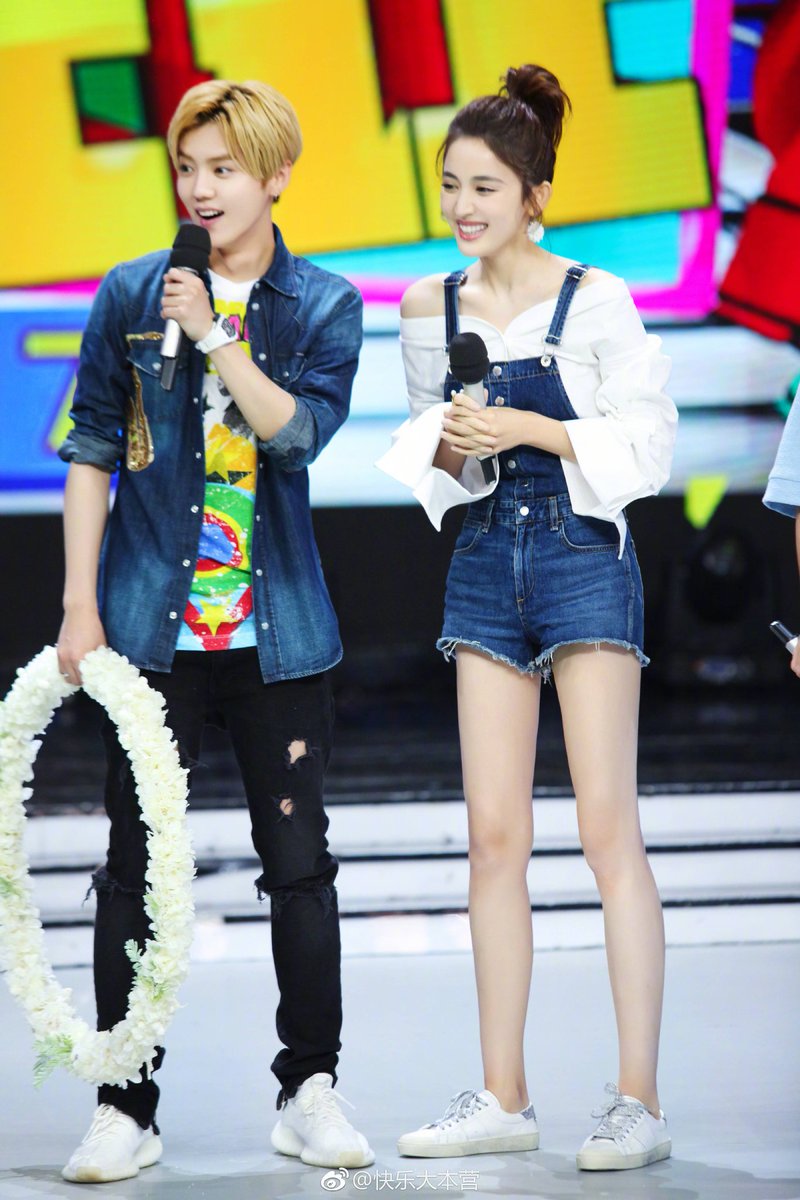 Celebrity News
Lin Gengxin and Mark Chao went to another vacation together!? Lin Gengxin posted on Weibo, "at Chang Ping, the Maldives in Beijing, there is Chao teacher using a rock as a pillow."
That's Mark laying on the beach
And Lin Gengxin with his peace sign
Yang Mi attended Zhou Bichang's concert and posted their  jokes with each other in chat!
YM: I want to go on stage
ZBC: What are you going to do onstage?
YM: I'm going to lift your skirt!