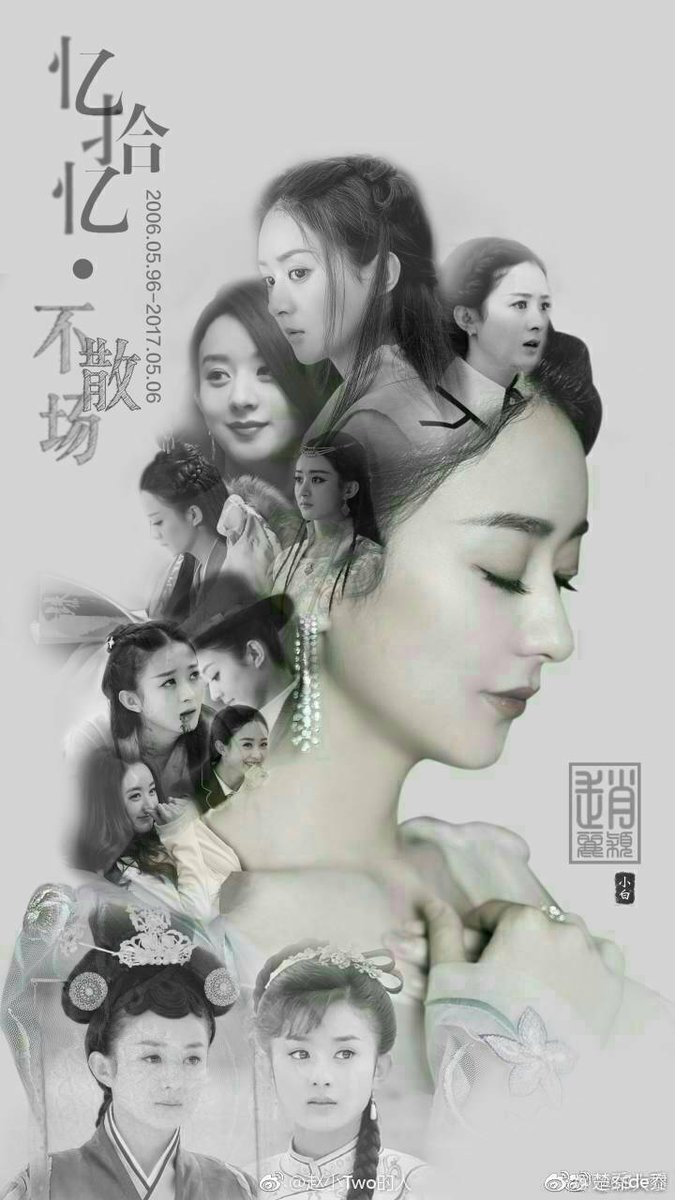 As you all know, this site had always been a little bias toward Zhao Liying just because most admins are fans of her.  May 6th marked the 11th year since Zhao Liying debuted as an actress therefore I wanted to post this to celebrate! =D I think she had come such a loooooong way since then. From some unknown role to someone with 48 million weibo followers + a long list of successful projects!
I feel like her interview for xStep had always been a model for herself: someone who always worked hard and challenged herself to be better and do better with every role she accepted and she had done great so far! Below are a few quotes from her video that I particular like and reflects a lot of Zhao Liying's life model.
"When there's praise, there'll be criticism. Naturally, when there are gains, there will be losses."
"Actions speak louder than words. Treat (other's) doubts as applauds and act out the character in your heart with a good project"
"Trust that with continuous efforts, only then can you win others with your charms"
All her hard work had paid off!  She was named Hundred Billions Actress for the number of views her dramas got combined and was top actress on VLinkage in 2016!
All her drama projects thus far (credit Wiki). Thou long, she actually didn't get recognized until My New Fair Princess (2011) and her first real break was from Legend of Luzhen (2013). Looking forward to how she would deliver her role in Princess Agents in June and any other upcoming dramas that she will be picking up along the way!
Year
Title
Chinese Title
Role
Notes
2006
Century Endless Love

《世纪不了情》

Lin Shanshan
Unbroadcasted
2007
Nanyue King

《南越王》

Empress
Unbroadcasted
Golden Marriage

《金婚》

Tong Duoduo
2008
Spring Goes, Spring Comes

《春去春又回》

Ren Jie'er
2009
Four Women Conflict

《锁清秋》

Wen Yan
The Firmament of The Pleiades

《苍穹之昴》

Ling'er
A Husband and Wife

《夫妻一场》

Yingzi
2010
Qiao Luo Gang

《锣鼓巷》

Li Qiuping (young)
The Girl in Blue

《佳期如梦》

An An
The Dream of Red Mansions

《新红楼梦》

Xing Xiuyan
The Amateur Imperial Bodyguard

《大内低手》

Chen Xin'er
2011
Goddess of Mercy

《新玉观音》

A Jing
New My Fair Princess

《新还珠格格》

Princess Qing'er
Xia Yan's Autumn

《夏妍的秋天》

Tang Xiaoran
2012
Best Quality Men and Women

《极品男女日记》

Chu Yang
Unbroadcasted
Palace II

《宫锁珠帘》

Tunggiya Baihe
Guest Role
Cuo Dian Yuan Yang

《错点鸳鸯》

Su Huan'er/ Yang Yiliu
2013
Legend of Lu Zhen

《陆贞传奇》

Lu Zhen
The Legend of Chasing Fish

《追鱼传奇》

Hong Ling
2014
Wife's Secret

《妻子的秘密》

Jiang Baihe
Boss & Me

《杉杉来了》

Xue Shanshan
The Romance of the Condor Heroes

《神雕侠侣》

Mu Nianci
Guest Role
2015
The Journey of Flower

《花千骨》

Hua Qiangu
Best Get Going

《加油吧实习生》

Song Nuan
Love Yunge from the Desert

《大汉情缘之云中歌》

Bai He
Guest Role
Legend of Zu Mountain

《蜀山战纪之剑侠传奇》

Yu Wuxin
2016
Lucky Tianbao

《吉祥天宝》

Yang Ruonan
The Mystic Nine
《

老九门

》
Yin Xinyue
Noble Aspirations

《青云志》

Bi Yao
Rookie Agent Rouge

《胭脂》

Lan Yanzhi
Happy Mitan

《欢喜密探》

Bao Bei'er
Guest Role
Noble Aspirations 2

《青云志2》

Bi Yao
2017
Princess Agents

《特工皇妃楚乔传》

Chu Qiao
Even though she is a serious actress, an awkward person who takes time to warm up to others, and a straightforward person who speaks without thinking sometimes (hence the nickname Zhao Xiao Dao), she also had a funny-ish side to her.
Her crazy dance video
and definitely a cute side!! =D