Statistics gathered from the 9 largest video sites showed that the 11 TV dramas Zhao Liying starred in exceeded 83 billion views! Journey of Flower has 24 billion views, Legend of Chusen has 22 billion views, Old Nine Gates has 11 billion views, Boss & Me has 6.7 billion views.
The Game Changer released its first poster [scroll some more :]. This film is the first of a trilogy (about the Shanghai Bund's wildness). Through a series of stories, the worldview and game rules of Shanghai Bund's gangs will be revealed. The movie version will be the center, there will be products in other areas i.e. comics, games, and online dramas. The online drama has already started filming! The production team of this film is American (from Hollywood) with the expectation that this movie will be released in North America. The Gamer Changer stars Huang Zitao, Peter Ho, Gulinazha, Wang Xueqi, and Choo Ja-hyun. The director is Gao Xixi whose last film was For Love or Money starring Liu Yifei and Rain.
BTS (Huang Zitao, Peter Ho, and Gulinazha)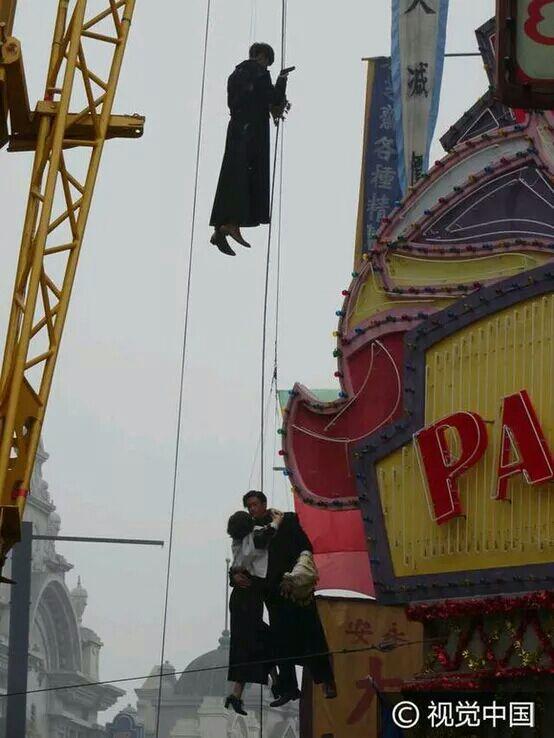 New trailer for Railroad Tigers (subbed):
Hide and Seek held a press conference. Leads Wallace Huo and Qin Hailu attended. This movie is to be released November 4th
Hu Ge for Bazaar Men
Nirvana in Fire 2 (finally) confirmed its cast. Sadly, Hu Ge isn't returning. Instead, Liu Haoran is the lead. Other actors are Wu Hao Chen, Sun Chun, Mei Ting, Jacob Zhang Bo, Guo Jingfei, and Qiao Xin. Although Tong Liya and Huang Xiaoming will appear in it, they are merely guest stars.
Beauty Private Kitchens will finally air (after a three year delay) on November 11th. It will broadcast on Anhui and Zhejiang TV, 2 episodes daily. It stars Zheng Shuang and Ma Tianyu
Zheng Shuang is looking so skinny on the set of Rush to the Dead Summer
Yang Yang (at a promotional event for a beauty product)
Yang Yang (new pictures)
Angelababy's baby belly! She is speculated to be around 4-5 months pregnant
Journey of the Flower cast members, Tang Bao (An Yuexi) and Ni Mantian (Li Chun), visited Zhao Liying on the set of Princess Agents
Tokyo International Film Festival took place on October 25, 2016. Attendees from the c-entertainment industry included Wu Yifan, Jiang Qinqin, Francis Ng (with his son), Louis Koo, Jacky Cai, and Jessie Li
L'Officiel Fashion Night 2016
An annual Fashion Awards Night ceremony (held on October 30th this year) was attended by Yang Mi, Wang Kai, Yang Yang, Jing Boran, Zhang Tianai, Li Chen, Tong Yang, Wang Luodan, Tong Dawei, Zhang Bichen, Li Yitong, Zhang Xiao
Yang Yang won Most Popular Actor award
Yang Mi won the Most Popular Actress award
Jing Boran won Most Powerful Actor award
Wang Kai won Most Attractive Actor award
Xu Weizhou won for Best New Artist
Zhang Tianai
Jing Boran and Wang Kai
Lastly, the new episode of Takes a Real Man (subbed):